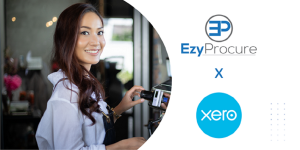 Before 7 April 2020, manual processes may have been the standard way of running business operations. However, since the start of the circuit breaker, businesses have been forced to undergo digital transformation in order to adapt to new norms. People had no choice but to take their lives online, from working to shopping to ordering food. Likewise, companies have had no choice but to shift their businesses online to survive. This includes adopting digital technology to increase efficiency of daily operations, such as digital procurement and invoicing.
Even though the circuit breaker is behind us, Phase 2 is just the beginning of a digital transformation that all businesses will need to effectuate.
The COVID-19 pandemic is shifting consumer practices more permanently than not. It is unlikely that old consumer behaviour will return. Furthermore, how habits will continue to change remains unpredictable. One thing is for sure – change is inevitable, and businesses will have to be prepared.
The only way businesses can emerge above the pandemic is to make swift and accurate changes when the situation calls for it. Undeniably, going digital will be a surefire way of preparing one's business for the change that is to come. Digital solutions for business processes will replace the effort previously put into manual processes. By adopting them, businesses can make relevant changes to their operations speedily and at a reduced cost.
In light of the COVID-19 pandemic, SGeBIZ is partnering with Xero to bring to small businesses the combined benefits of digital procurement, invoicing and payment.
What can EzyProcure by SGeBIZ do for you?
As your business grows, your procurement process will become more complex. Done manually, procurement will be prone to errors, causing financial losses.
Instead, choosing to automate the whole process will reduce the chances of error, increasing productivity and efficiency. EzyProcure does that for 1,000+ satisfied customers, simplifying procurement by automating workflows.
EzyProcure is an easy-to-use digital procurement tool that simplifies procurement for businesses. Its integration with your existing systems ensures that data flow is seamless and effortless on your part. From creating orders to receiving goods to reconciling invoices for payment, EzyProcure automates procurement and is the most convenient way to buy for your business.
At the same time, payment is made easy as EzyProcure is integrated with a digital payment tool, EzyPayment. EzyPayment gives users an interest-free and extended credit term of up to 60 days.
Users are also eligible for funding of up to 80% from the Productivity Solutions Grant (PSG).
What can Xero do for you?
Xero is an online accounting software that makes running your e-commerce business simple.
The accounting software is synced with third-party apps for POS, inventory, e-commerce & others. This helps you to easily control stock, manage orders and streamline admin tasks.
Users can get a real-time view of their cash flow, anytime and anywhere. Xero works to import, categorise and reconcile latest bank transactions. The Xero mobile app also allows you to send invoices or even create expense claims on the go. After sending online invoices, users receive updates on when the invoices are opened and get paid faster.
With regards to food and beverage (F&B) enterprises, owners can run payroll, track employees' working hours, approve leave, and even communicate information in real-time to their accountant, wherever they are.
Xero, therefore, reduces the hassle of physical invoices, making business accounting convenient and easy.
What can the SGeBIZ x Xero partnership do for you?
The partnership ensures that the Accounts Payable (AP) data flow is seamless and safe. This minimizes data entry effort and hence reduces human errors.
With a click of a button, data can automatically be transferred between the two platforms. Reconciled invoices from EzyProcure will be transferred to Xero's Accounts Payable (AP) Journal. Images of invoices from EzyProcure transferred to Xero will be tagged to the respective AP entry.
This seamless data transfer ensures the secure handling of business records. Additionally, businesses enjoy extensive savings on time and effort required by manual operations.
Conclusion
With SGeBIZ and Xero's partnership, businesses can make smarter decisions that save cost. Having all benefits of digital procurement, invoicing and payment through the partnership will enable a smoother operational flow as well. More importantly, the partnership will help to increase businesses' adaptability, giving them the tools to cope with the unpredictable nature of the pandemic.