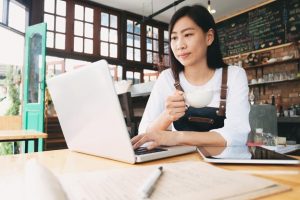 Over the first and second quarter of 2020, many businesses have struggled to survive, as the COVID-19 pandemic came to challenge what used to be a comfortable norm for many. With the subsequent phases of Movement Control Order (MCO); which started on 18 April 2020, and the need to adapt to new social distancing norms, businesses are finding it more and more difficult to just stay afloat.
A March 2020 survey by an online home services platform, Recommend.my, have found that 68.9 per cent of local small and medium enterprises (SMEs) have suffered more than 50 per cent drop in business within one week of the movement control order (MCO). With a significant income loss and slower growth prospects in the next coming months, it's high time for businesses to pull themselves up by the bootstraps to look for ways to minimise cost. For many, this often calls for a reformation in their procure-to-pay processes.
If you are a business owner who still adheres to the traditional way of conducting your procurement process, you would probably agree that this manual process is tedious and time-consuming. Worst of all, it requires more manpower and is bound to experience loss due to human error. By reformatting your procurement processes and adopting a one-stop digital procure-to-pay system, you will save time, money and manpower, making your business more efficient and profitable.
EzyProcure — a procure-to-pay platform by SGeBIZ — offers an integrated system for a seamless e-commerce experience, which enables both buyers and suppliers to conduct their day to day procurement process in a smooth and timely manner. This convenient platform enables the procurement process to be fully automated, which in turn will lead to more credit and better cash flow.
EzyProcure offers the following features to allow for faster and smoother procurement process:
1. Multilingual, omnichannel access
Available in English, Simplified Chinese, Traditional Chinese, Thai, Bahasa Indonesia, Bahasa Melayu, on Web and App (iOS / Android).

2. Control mechanisms
Closed-loop environment with pre-approved suppliers, access control rights, approval matrix and budget control.
3. Inventory management for food industry business owners
Ability to auto-replenish stock levels upon goods receiving, with added capabilities for stock-taking.
4. EzyPayment
Linked to EzyPayment, which offers Accounts Payable automation and interest-free credit for your payables.
5. AI-Driven Optical Character Recognition
Ability to read invoices and pick up data discrepancies without need for pre-loaded templates.
6. Management Information System Reporting
Detailed analytics of procurement data, sense-made into food cost data, goods receiving data and many more, for smarter decision making.
EzyProcure's intuitive UI with multilingual capabilities is able to cater to ground needs. It brings the online shopping experience into B2B. EzyProcure's competencies in systems integration also allow it to interoperate with the food industry business owner's backend systems for seamless data flow, eliminating data entry work. In addition to that, EzyProcure's comprehensive business analytics grants visibility into spending needs and forecasts, for smarter business decision making.
Maximise Your Cash Flow with EzyPayment
As a business owner, cash flow is king. Another important step in digitising your business is by signing up for a digitalised payment platform that offers hassle-free, readily available credit and will enhance your cash flow. EzyPayment is all this and more — it is the only payment facility that brings you quality credit at a lower cost. What more, you will also get to enjoy early payment programs while unlocking your cashflow interest-free!
Here are what you get when you sign up for EzyPayment:

1. Up to 60-day interest-free credit
With EzyPayment, buyers can now optimise their cash flow by extending their credit terms. EzyPayment is the only payment facility that brings SMEs quality credit at a lower cost and allows business owners to enjoy early payment programs while unlocking cashflow interest-free.
EzyPayment offers seamless integration with accounting systems such as Xero, that allows business owners to make payment to suppliers from their invoices.
2. Shorter payment time to suppliers
Delayed payment to your supplier may incur some additional late charges that are totally unnecessary. EzyPayment solves this problem by enabling suppliers to receive payment within two to five days of invoice to reduce credit risk and recourse. Being able to offer timely payment to your suppliers will also enhance your working relationship with them in the long run.
3. Automatic early payment discount factoring
Does it seem fair that additional fees are incurred when payments are late yet early payments don't get rewarded? With EzyPayment, early payment discounts can be negotiated and included in every transaction. This means that you will be able to enjoy better savings on payables.
Business owners can enjoy probably the lowest transaction fee in town for F&B supplies and rental payments.
4. Secured transaction
Enjoy peace of mind when you make transactions using EzyPayment, as it conforms to the highest security, stability and integrity standards that are demanded by banks. EzyPayment is also PCI DSS-compliant and is subject to annual audits.
5. Easy accounts reconciliation
EzyPayment automatically generates real-time payment and remittance advice based on the invoice level to simplify the payment reconciliation work process. This way, you will always be able to stay on top of all your business transactions anywhere, anytime.
Conclusion
Like it or not, COVID-19 has become a digital catalyst that propels business owners to step out of their comfort zones and embrace the changing business landscape. Determining whether or not your business will sink or swim all depends on whether or not you are willing to embrace change and make that digital shift. Like all changes, this may be a little bit uncomfortable at first, but once it's done, you'll be glad you did it at all.