A tuition centre's woes of collecting tuition fees and matching each payment with its customers have ended. All thanks to switching from using PayNow to EzyPayment eGIRO, a service offered by Singapore E-Business (SGeBIZ), a fintech company and a major payment institution licensed under the Monetary Authority of Singapore.
When it comes to collections and getting paid on time, eGIRO is not only a cost-effective but also a cost-efficient platform for billing organisations to collect payments from consumers and corporates. The process becomes more digitised, efficient and seamless. For businesses, the advantages of using eGIRO in their business operations are manifold and obvious.
"With EzyPayment eGIRO, I no longer need to chase for payments, I will just need to set up the payment once, and I can receive all the subsequent payments automatically. For PayNow, a transaction still needs to be made every month. EzyPayment eGIRO has definitely saved me a lot of time and effort to monitor who has paid and who has not," said Mr Maverick Puah, owner of tuition centre, Chemistry Guru.
"I think e-payment like eGIRO is beneficial to both customers and the company. It never occurred to me that this can be applied to tuition centres," added Mr Puah.
"eGIRO has automated my recurring payments for my child's tuition fees at Chemistry Guru and I receive email notifications whenever a payment is made," enthused a parent. "Just follow a couple of steps for a simple one-time set-up. There is no need to print and fill in a physical GIRO form and I don't have to remember to do a bank transfer or PayNow every month," added the parent.

B2C and B2B Payers
SGeBIZ, as a payment aggregator and a provider of B2B business solutions, helps business organisations to adopt eGIRO and enhance their productivity. There will be no more late payment charges for recurring bills. The process is automated and fuss-free. This one platform will incorporate multiple billing organisations and will provide a consolidated digital view of recurring GIRO payments.
eGIRO helps consumers to save time, especially from repeat PayNow or ibanking transfers to regular service providers. The process also enables consumers or organisations to cancel eGIRO arrangements with only one click and within minutes. eGIRO is a secure and reliable digital payment method, supported by the major banks in Singapore.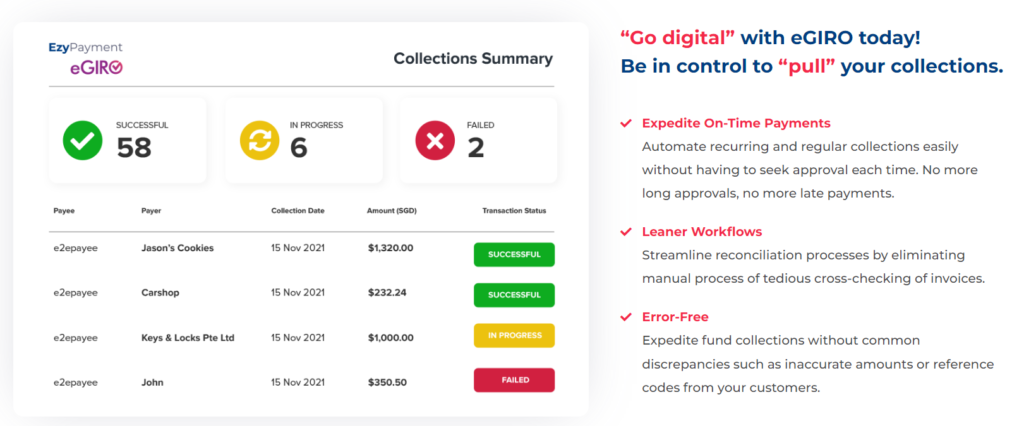 B2B Payee
eGIRO transforms the paper, manual process of GIRO into a digital, eco-friendly experience. Unlike current paper GIRO applications which require weeks to be processed and approved, consumers and businesses can now make arrangements to pay their bills in minutes.
Mr Edmund Louis Nathan, Founder & Group CEO of Singapore E-Business Pte Ltd, said: "Since the launch of eGIRO by the Association of Banks in Singapore in November last year as part of the Smart Nation initiative, we have been supporting our customers who have been onboarded to our platforms. This has enabled our customers to electronically seek direct debit mandates and collect money seamlessly within the SGeBIZ ecosystem. We are focused on helping businesses accelerate their growth in the digital economy through innovative solutions in integrated payments, financing and value-added services."
SGeBIZ's EzyPayment eGIRO platform will enable its customers to reduce costs, gain greater operational efficiency, streamline workflow as well as improve liquidity and cash flows. An additional advantage of using EzyPayment eGIRO is the reconciliation process. EzyPayment eGIRO will help SGeBIZ's customers streamline their payment, collections and reconciliation work processes. This will help to eliminate errors and provide a leaner financial management process.
Learn more about how EzyPayment eGIRO can help businesses collect payments faster and easier than before.