Here at SGeBIZ, we believe in nurturing every individuals to empower them with the skillsets and capabilities to excel in their field. Hear from our interns' experiences on how the guidance and exposure in SGeBIZ have helped to build their future careers.
Beatrice – Customer Success Intern
As a Customer Success Intern at SGeBIZ, I was given room to grow and work independently under the guidance of my department and peers.
With my focus on increasing customer satisfaction, I spoke to our customers to gather feedback on the company's products and how they could be improved. I also worked alongside the IT team to explore how we could speed up the onboarding process for our customers, increasing the efficiency of our Customer Success operations. In addition, I worked closely with the Marketing team to head our Customer Engagement activities to actively engage our existing customers, including planning and executing content for Customer Recognition Awards.
My internship experience was definitely a fruitful and enjoyable one. It would not have been possible without the guidance from my colleagues, as well as them always being so friendly and approachable. Thank you, SGeBIZ, for everything!
Carina – Digital Marketing Intern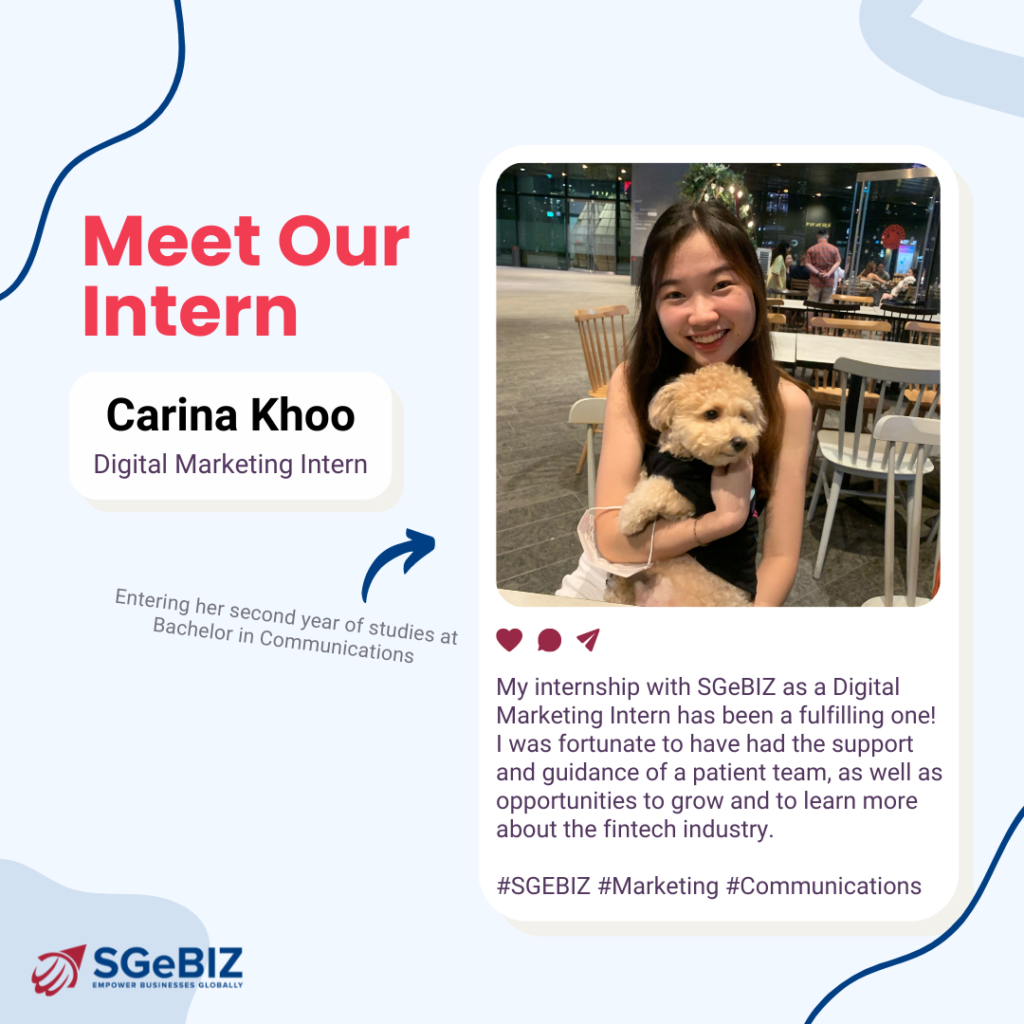 My internship with SGeBIZ as a Digital Marketing Intern has been a fulfilling one! During my time here, I was fortunate to have had the support and guidance of a patient team, as well as opportunities to grow and to learn more about the fintech industry.
The team was supportive of my interests in writing and gave me opportunities to further my experience in content creation through copywriting. I was given the scope to prepare the content copy of the company's social media posts, EDMs, and marketing materials to promote our business solutions and participation at events. This allowed me to gain a look-in to B2B content writing, and further my copywriting experience.
Beyond this, I am grateful to have been given opportunities to dabble in areas of video production and event planning, which I believe will contribute greatly to my experience as a Communications undergraduate.
Thankful for the welcoming team I've met during my time here!
Joel – Business Development & Growth Intern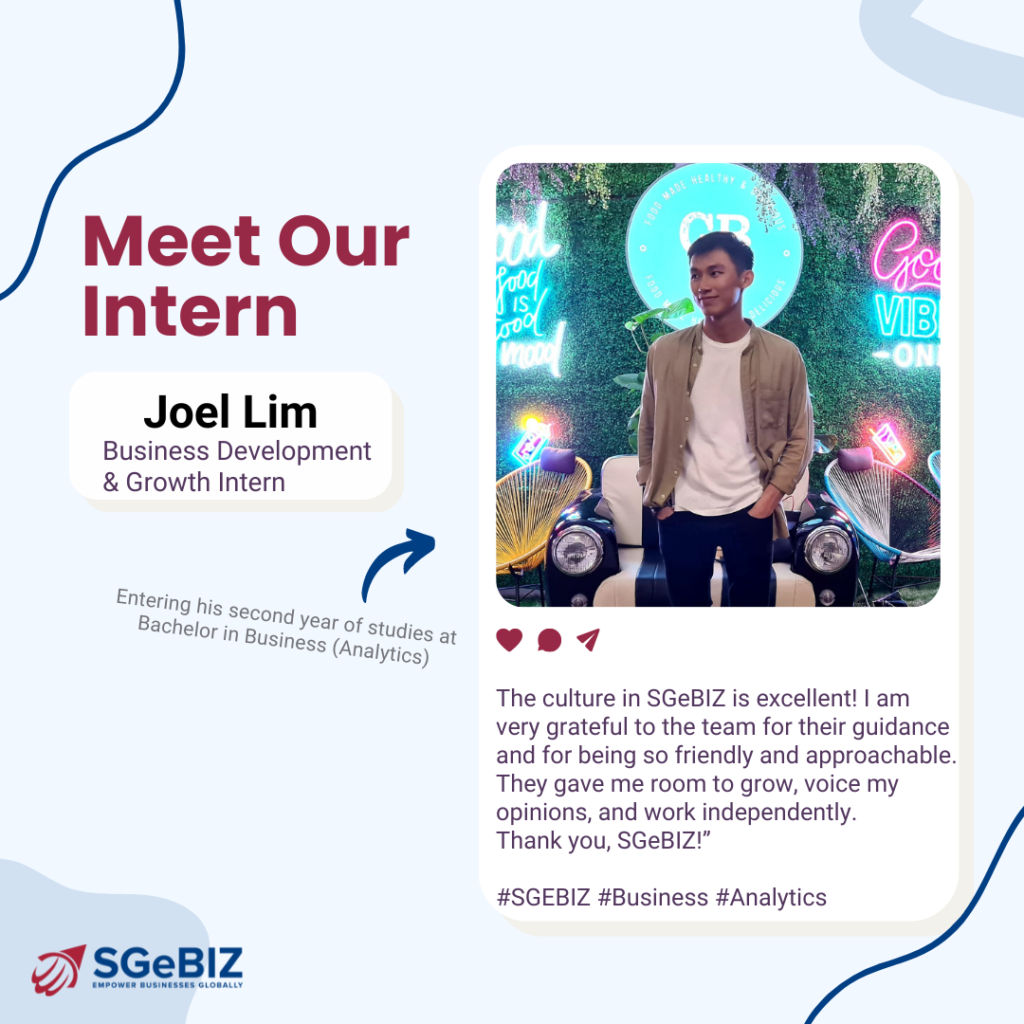 Reflecting on the past 10 weeks, my internship with SGeBIZ has been nothing short of fulfilling! As a Business Development & Growth Intern, I helped with sales-led initiatives from lead generation to closing deals. I was also involved in the research and analysis of strategic areas like the company's growth plans and growing and identifying partnerships with key clients with whom we have product and company synergies.
All these have allowed me to gain good exposure to the Fintech industry and deeper insights into B2B procure-to-pay solutions and what goes on behind the scenes to keep a Fintech company dynamic and innovative.
Most importantly, the culture in SGeBIZ is excellent! I am very grateful to the team for their guidance and for being so friendly and approachable. They gave me room to grow, voice my opinions, and work independently. Thank you, SGeBIZ!
Apply for an Internship With SGeBIZ for an Exciting and Fruitful Experience!
If you are interested in finding out more about the latest job openings, visit www.sgebiz.com/careers today.
Looking for an internship? Send your resume to [email protected]