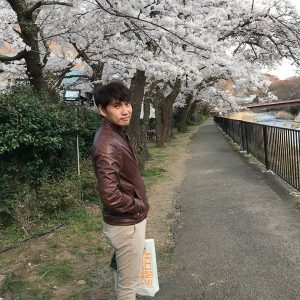 Born and bred in Singapore, SIMYEE Holdings is a progressive multi-dining concept group offering quality food & beverage experiences across the island.
With 5 popular F&B names, 9 outlets, and one central kitchen, they serve a variety of cuisines including Western, Japanese, and Thai. The local organization has over 8 years of experience in the restaurant operations industry and a fast-growing team of 60 staff members today.
However, before they got to where they are today, let's rewind back to five years ago when the brand had its hands full with five restaurants to manage.
While they were propelled by the group's ever-progressing nature and passion for the industry, their founder Mr. Chiam Wee Leong (left) realized that they needed a solution to first ease the bottlenecks in their day-to-day operations before an expansion could take place.
Addressing procurement issues
Some of the major issues that SIMYEE Holdings was facing in their initial days stemmed from their procurement processes, which were the meat and potatoes of the whole operations when it came to managing multiple dining outlets.
Due to the company's manual procurement processes and more traditional workflow structures, there were greater margins for oversights and human error to occur throughout their business.
Apart from not having the means to trace back the purchase orders made by employees, they also found it difficult to stay updated with the fluctuating prices of goods amongst their suppliers.
This ultimately made the accounts payable (AP) reconciliation a burdensome task due to the high amount of data that did not tally when comparing their purchases against invoices sent by their suppliers.
Furthermore, the subsequent process of painstakingly logging all invoices manually into their accounting service platform (QuickBooks), a time-consuming and laborious process, exhausted his employees severely.
With that discovery, Mr. Chiam realized how detrimental these manual processes were to the growth of the company, and understood that digitalization was needed in order for the home-grown brand to soar higher.
Identifying the low hanging fruit
In the midst of their search for a procurement solution, Mr. Chiam learned of SGeBIZ and was referred to EzyProcure by another company that had adopted EzyProcure into their own business.
"The first time we connected with SIMYEE Holdings in November 2017, they mentioned that they were sourcing for a procurement management system to address the procurement and Accounts Payable (AP) reconciliation challenges they were facing," said S. Barathan, General Manager of Customer Success in SGeBIZ.
By adopting a single platform solution that could seamlessly integrate into their existing systems and automate workflows, they were able to cut down the time and effort spent on mundane tasks by up to 70%. Time-consuming tasks such as data entry works were significantly cut down, as AP reconciliation can be done on EzyProcure and data can be seamlessly exported into their accounting platform.
Ultimately, time spent on reconciliation and data entry works fell from up to 3 hours a day to just 30 minutes.
While the single platform solution showed great promise in the long run, the team had to overcome some of the challenges that come with learning any new system.
"There will definitely be challenges, especially when it comes to introducing or implementing a solution kind of system to any F&B business, and for SIMYEE Holdings, there were challenges in terms of adoption and adaptability," Barathan added.
But with eagerness to learn paired with the relentless support rendered from SGeBIZ, it wasn't long before the team at SIMYEE Holdings got the hang of digital procurement.
Streamlining and digitalizing procurement with EzyProcure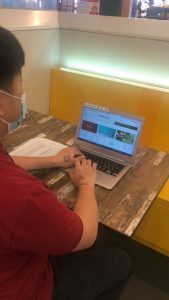 The adoption of EzyProcure required the cooperation of the entire team — which also meant that they had to eliminate manual orders made by employees across outlets and familiarize them all with the new platform. This allowed Mr. Chiam as well as everyone in the organization to easily obtain an overview of all purchase orders, hard copy invoices, and such within a single platform.
"The implementation of EzyProcure has helped SimYee Holdings to streamline our entire procurement processes from electronic ordering to electronic goods receiving and seamlessly exporting all reconciled invoices to our accounting platform," according to Mr. Chiam.
EzyProcure's optical character reading (OCR) technology also introduced the concept of automation into their existing workflow.
With the help of the proprietary technology, the finance team in SIMYEE Holdings was able to expedite reconciliation works easily within three to five seconds after an outlet sent a photo of the invoice, instead of having to wait up to two weeks for the physical copy to reach them.
This enabled the team to export invoices easily to QuickBooks without the need to do any tedious data entry work.
"With the OCR technology that EzyProcure has, accounts payable reconciliation cannot become easier," shared Mr Chiam.
On top of that, the OCR technology is also able to assist the team in identifying price and quantity discrepancies of goods during AP reconciliation. Before the digital implementation, it was cumbersome for the finance team to keep track of previous prices unless they were to flip through stacks of hard copy invoices.
With EzyProcure's OCR technology, discrepancies can automatically be immediately picked up through the digital invoice after the photo has been sent over by the outlet.
This means that if the supplier did not notify Mr. Chiam of a price update prior to billing, the OCR technology would flag an amount mismatch due to the difference from previous rates.
EzyProcure supports better cash flow management
The other significant advantage that EzyProcure brought to the team at SIMYEE Holdings includes higher visibility of their cash flow management through business reports of their data trends.
With the solution, Mr. Chiam is able to view and segment data based on a variety of filters such as total purchase volume, goods received during a specific period of time, number of sellers selling a specific item, and which outlet making purchases from a specific supplier — making it easier for him to make better-informed business forecasts.
Today, the procurement workflow at SIMYEE Holdings has a much leaner system that's been enabled by EzyProcure's paperless technology.
Employees are now able to conveniently place orders for goods via their mobile phones or tablets, which means they are not required to be physically present at the outlet to make an order.
Details on the placed order can then be accessed by everyone through the system, which ensures lesser discrepancies such as placement of double orders, and employees can easily sign to acknowledge that they have received the goods via EzyProcure as well as take a photo of the physical invoice.
---
"As the EzyProcure interface (both app and web) is extremely user friendly, it allowed our colleagues on the ground to adapt to the application efficiently."
– Mr. Chiam Wee Leong
Founder, SIMYEE Holdings
"SIMYEE Holdings has been one of our oldest customers, and the working relationship we've had over the years has been quite fantastic."
– S. Barathan
General Manager of Customer Success, SGeBIZ.
---
Want to learn more about how EzyProcure can help automate your procurement workflow? Click here!