Beloved for its delectable dim sum fare, Yum Cha is a culinary institution that most Singaporeans easily recognise.
Having first opened its doors in 2000 as a humble shophouse eatery along Temple Street in Singapore's Chinatown district. The company later expanded with a second outlet in Changi Business Park, delivering its unique dining experience to the convenience of more customers.
While business is smooth and well-run today, Yum Cha struggled with operational limitations that arose from cumbersome manual procurement processes just two years ago.
Recognising the Problem
Bound by old systems, Yum Cha found it increasingly difficult to cross-reference vendor prices. Staff also strained to track orders and manage the company's accounts payables.
Major discrepancies in order placements and accounting emerged, impacting the company's profits. Yum Cha's employees also spent excessive amounts of time addressing these issues, distracting them from more productive tasks.
Yum Cha's management recognised that revamping their procurement processes was key in resolving these problems.
At the recommendation of another fellow restaurant operator, Yum Cha was introduced to SGeBIZ and the benefits associated with their EzyProcure digital platform.
After an in-depth discussion with SGeBIZ's sales and customer success team, Yum Cha adopted the EzyProcure platform and digitalised its procurement process.
New Systems and the Learning Curve
Change can be uncomfortable. However, EzyProcure's user-friendly features alongside the support from the Customer Success team made the integration between the platform and Yum Cha's day-to-day operations smooth-sailing.
For one, new users at Yum Cha were quickly acquainted with EzyProcure's many handy and simple-to-use functions. The company's employees found it a breeze to not only place online orders but also receive goods and reconcile uploaded documents thanks to EzyProcure's intuitive user interface.
The availability of major Asian languages also made EzyProcure more appealing to Yum Cha's operations team, which comprised mostly of Mandarin-speaking staff.
Some hiccups were inevitable, though Yum Cha's general manager Pamela Wong shrugged them off with credit to the helpful staff. "The transition was slightly challenging initially," she said. "But the EzyProcure team's supportiveness and responsiveness greatly eased the onboarding journey."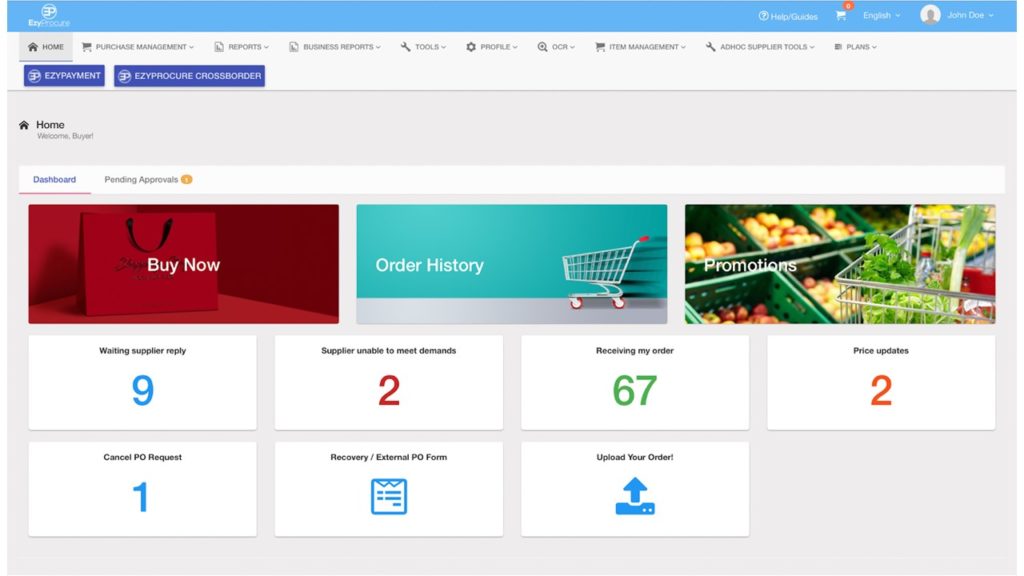 Digitised Order Processing
Since the adoption of EzyProcure in both Yum Cha's branches, the software solution has been able to resolve many of the operational challenges they were seeking to improve.
One of these is the auto-reconciliation feature powered by a unique AI-powered OCR technology that performs a 3-way match of the purchase orders, goods receivables and invoices. This improves Yum Cha's back-end operations and reconciliation work with more speed and accuracy than previously possible.
In addition to this is the added visibility that comes with EzyProcure. Yum Cha can now better control and monitor their orders digitally and produce quality food while cross-referencing prices amongst their different suppliers to ensure they're getting the best deal for their supplies. 
As the procurement process became more efficient, Yum Cha saw the improvements occur in multiple sectors of the company as a direct correlation to EzyProcure.

Overseeing Inventory
Apart from merely benefits to their procurement processes, Pamela Wong indicated improvements in inventory data and inventory management as a key improvement.
"Inventory is another factor. We are able to trace the quantities of our orders and compare them to the historical trending against our sales to gauge any irregular fluctuation," said Pamela.
Besides being able to control the quality, oversee prices and manage their inventory more effectively, they are also able to track profit margins and compare them against previous procurement data — all of which have brought Yum Cha to its good success today.
With EzyProcure, Yum Cha has since significantly reduced time spent on manual back-end processes, including procurement and inventory management. This has enabled them to spend more time focusing on their front-facing operations, as they continue to bring quality food and service to their customers as a familiar name.
Learn more about how EzyProcure can help automate your procurement and inventory management processes today.
Photo taken from facebook.com/yumchasg