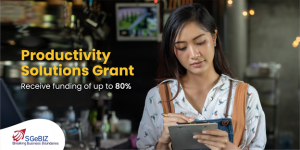 2020 has been a tough year for businesses across the board. While all businesses are struggling to keep afloat, the challenges faced by small-medium enterprises (SMEs) are especially unique. Recent research by CNBC has shown that 7.5 million small businesses across the US are at risk of closing and shutting down permanently. While in neighbouring Malaysia, a survey in March 2020 finds that nearly 70% of SMEs have lost half of their income and have suffered more than 50% drop in business during the movement control order (MCO) period.
The Productivity Solutions Grant (PSG)

In Singapore, the Government has sparked several initiatives to help struggling SMEs stay alive during the Circuit Breaker period. Most SMEs in Singapore looking for IT solutions will or already have come across the Productivity Solutions Grant (PSG), especially those looking for eCommerce solution providers. However, with so many sites offering different information, it can be confusing for any SME business owners in approaching this topic.
To further up the ante, the maximum funding support level has been raised from 70% to 80% from 1 April 2020 to 31 December 2020. PSG serves as an avenue to support companies that are keen on adopting IT solutions and make long-term technology investments to enhance their business processes. In addition to sector-specific solutions, PSG also supports the adoption of solutions that are applicable to all industries e.g. customer management, data analytics, financial management, inventory tracking, and most importantly, eCommerce solutions in Singapore.
Among the expanded solutions offered by PSG to help enterprises implement COVID-19 business continuity measures are online collaboration tools, virtual meeting and telephony tools, queue management systems, as well as temperature screening solutions. In partnership with Infocomm Media Development Authority, the scope of PSG has been enhanced to include Laptop-Bundled Remote Working Solutions for eligible enterprises from 17 April 2020 until 31 December 2020.
EzyProcure for a seamless e-commerce experience

For small and medium food industry business (F&B) owners, the PSG can be applied through EzyProcure. EzyProcure is a platform that offers an integrated system for a seamless e-commerce experience, which enables both buyers and suppliers to conduct their day to day procurement process in a smooth and timely manner. This convenient platform enables the procurement process to be fully automated, which in turn will lead to more credit and better cash flow. EzyProcure's intuitive user interface and multilingual capabilities also make it the most convenient way to buy for your business.
EzyProcure also implements a proprietary optical-character-recognition (OCR) technology that saves 70 per cent of the manual effort required of your manpower, making work more efficient even for employees. At the end of each month, EzyProcure also produces comprehensive business analytics to assist food industry business owners in making smarter decisions for their establishment. Most importantly, EzyProcure simplifies the procurement process and automates workflow with seamless integration to backend systems.
You can apply for the PSG through the EzyProcure platform, which is linked to the EzyPayment platform. EzyPayment is the only payment facility that brings you quality credit at a low cost and lets you enjoy early payment discounts while unlocking your cashflow interest-free.