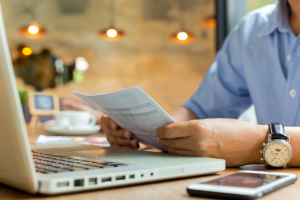 Going digital isn't new rhetoric. Yet with the disruption brought forward by COVID-19, it has created the absolute need for organisations to allow staff to work remotely. From daily operational files to confidential documents, it's increasingly essential for them to be easily accessible digitally while ensuring data security.
In Singapore, the government is constantly looking at "Go Digital" avenues to better support the local businesses. One of such initiatives was the Nationwide E-Invoicing Initiative launched by Infocomm Media Development Authority of Singapore (IMDA) in 2019 to help businesses improve efficiency, reduce cost, enjoy faster payment and stay green at the same time. This network is an extension of the International Pan-European Public Procurement On-Line (PEPPOL) E-Delivery Network which allows businesses to transact internationally with other linked companies. So what's PEPPOL all about?
PEPPOL is an E-Invoicing standard that enables a standardised way of issuing and receiving electronic invoices between businesses. The PEPPOL E-Invoicing standard is a fast-growing standard adopted by many countries. With the rise of digital payment revolution, it is high time for your business to hop on the virtual highway — and E-Invoicing is a key component of smooth and efficient digitalisation of business processes. If you are new to digital payments, here is some useful information to answer your questions regarding PEPPOL E-Invoicing:
1. I am interested. How do I participate in E-Invoicing?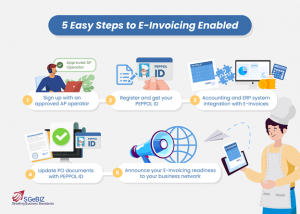 a. Join the network
Get onboard E-Invoicing with the PEPPOL-ready service providers, catered for different business needs. List of approved Access Point [AP] operators can be found from IMDA website (www.imda.gov.sg/einvoice).
b. Get your PEPPOL ID
A PEPPOL ID allows you to exchange E-Invoices over the network. Register your business in the Global Directory with your UEN and obtain your PEPPOL ID (typically done by your operator).
c. Send and receive E-Invoices
Integrate your accounting and ERP systems to send (and receive) PEPPOL E-Invoices.
d. Update Purchase Order (PO) documents
After signing up with PEPPOL E-Invoicing, the next step is to update all PO documents with your PEPPOL ID for invoicing.
e. Inform of your E-Invoicing readiness
Officially announce that you are E-Invoicing ready to all your suppliers and business partners. Assure them that E-Invoicing will offer greater digital efficiencies and better cash flow for suppliers.
2. Is E-Invoicing secure?
Security and integrity of the messages exchanged through the PEPPOL network (E-Invoice Transport Infrastructure) relies on encrypted transport using SSL and additionally a Public Key Infrastructure (PKI). This ensures that only parties with valid digital certificates can communicate on the PEPPOL network. When any Access Point or Service Metadata Publisher (SMP) providers sign the PEPPOL Transport Infrastructure Agreement with IMDA they can apply for a PEPPOL Digital Certificate.
This certificate contains the key cryptographic information for validating their communications on the PEPPOL network. This ensures only known and trusted providers have access to the E-Invoice Transport Infrastructure.
3. Will the Inland Revenue Authority of Singapore (IRAS) be able to access my E-Invoices?
No, IRAS is not able to access your invoices under current regulation. However, you do need to comply with any IRAS tax regulations, as per normal.
4. How much does switching to PEPPOL E-Invoicing cost?
This is dependent on the Access Point operator that you choose. Each Access Point operator will offer different business models and value-added services, so you will need to make your own decision based on your company's requirements.
5. Where do I find more technical information?
The necessary technical specifications and resources used to implement PEPPOL-compliant solutions and services are available at http://peppol.eu/support/.
6. What do businesses need to know about PEPPOL E-Invoices?
Business users should be aware that PEPPOL has been adopted as the national standard in Singapore. Businesses can tie up with any PEPPOL Access Point operator and gain access to their existing as well as potential customers across the entire PEPPOL network (i.e. connect once, connect everywhere) both locally and globally.
For those PEPPOL customers who are already using ERP and Accounting package providers, it is anticipated that they may only need minor changes or additions to their current software interfaces to make use of the PEPPOL E-Invoicing services.
7. Are the E-Invoices legally valid?
Yes, E-Invoices are still valid as evidence. Singapore's Electronic Transactions Act, Clause 6 states that "For the avoidance of doubt, it is declared that information shall not be denied effect, validity or enforceability solely on the ground that it is in the form of an electronic record."
Additionally, the IRAS E-Tax Guide record keeping guide for GST registered businesses states the following in section 3.3.2. "Physical copies of source documents need not be kept to substantiate your business transactions for tax purposes if the source documents are kept electronically ".
Do note that businesses should ensure proper internal controls are put in place to ensure the integrity, completeness, accuracy, availability and reliability of the electronic records, including all transactions executed electronically, where applicable.
8. Does it support cross-border transactions?
Yes, PEPPOL is an international standard. It allows you to send and receive invoices from overseas entities. Do note that this does not exempt you from compliance with any local or international regulations.
9. Is consumer invoicing included?
No, PEPPOL E-invoicing only covers business to business transactions, businesses to consumer transactions are currently not covered.
EzyAP is an IMDA and PEPPOL certified AP platform for E-Invoicing. You no longer need to struggle with hardcopy invoices or waste your valuable time in managing hundreds of invoices. Let EzyAP do the heavy lifting for you and make your life Ezy! Drop us a note at hello@sgebiz to find out more.