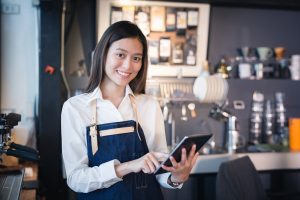 The COVID-19 pandemic has been a challenge for businesses of all shapes and sizes, but especially those in the F&B industry. With the procure-to-pay landscape having undergone considerable disruption during this unprecedented time, many F&B companies have leveraged this period to evolve how they conduct business.
With cost-efficiency becoming a primary concern for countless F&B organisations, digitising procure-to-pay processes is fast emerging way in which many forward-thinking companies have lowered costs and streamlined their operations to maximise their businesses' performances and reduce risk of closure.
If your company isn't using the latest digital procure-to-pay methods to seamlessly integrate its purchasing to account payable processes, you're likely falling behind the competition. Adopting a well-designed and highly intuitive procure-to-pay solution will save your F&B business vast amounts of time, money and effort by dramatically increasing your overall efficiency and profitability.
Confronting the Supply Chain Disruption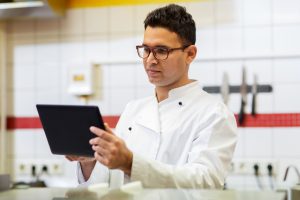 For procurement managers and business executives in the F&B industry, COVID-19 has brought about a variety of unforeseen supply chain disruptions that have significantly impacted their ability to meet the operational demands.
As one Deloitte F&B report states, at-home product consumption has reached new heights due to working-from-home conditions, while highly profitable out-of-home consumption has almost completely halted due to restaurants and retailers either closing or downsizing during lockdowns.
Even as we begin to see the light at the end of the tunnel regarding COVID-19, a range of supply chain issues could create considerable hurdles in the short-term. With a rapid increase in demand expected as life returns to normal, most suppliers have stagnated throughout 2020, meaning many F&B businesses will face severely limited access to resources.
From transport constraints to restrictions on transient farming and warehouse workforces alongside other unexpected changes in costs, F&B businesses looking to arrive in the new normal with a clear direction must closely plan and monitor their forecast of incoming supplies.
Backed by a digitised procure-to-pay journey, F&B organisations will have an easy, economical and automated way to ensure their day-to-day procurement process runs as smoothly as possible. These organisations are able to manage the changes or irregularities efficiently with automated processes in place, with cost control management, invoice reconciliation and data analytics capabilities made available through the digitalisation enablement.
Additional Issues for F&B businesses in Singapore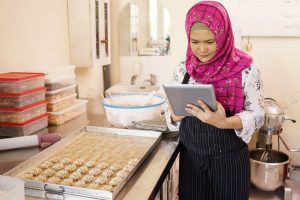 As Singapore's COVID-19 circuit breaker measures banned dining-in at restaurants for 10 weeks, businesses navigating this challenging period
were forced to adapt to changing customer, industry and governmental expectations. Although these measures were lifted on 19 June 2020, F&B businesses have had to find ways to make up for the revenue lost during this extended period.
This has proven difficult due to widespread reliance on third-party food delivery platforms and many suppliers moving from credit payments to cash on delivery as these vendors are in turn faced with increased credit default risk pressure. These changes have led to extra costs for F&B businesses either due to additional operational fees or disruption to the supply chain. By taking a tech-focused approach to their procure-to-pay process, many F&B entrepreneurs have already started to gain positive outcomes from their cashflow optimisation and gain assurance from a streamlined distribution network.
A Digital Procure-to-pay Solution With EzyProcure and EzyPayment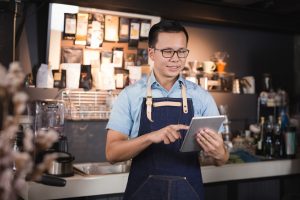 SGeBIZ offers a unique easy-to-use procure-to-pay platform ecosystems that will help your business manage costs and optimise its performance. The first of these is EzyPayment – a payment solution which facilitates your business to "buy now, pay later". There are a range of procure-to-pay benefits to consider but you'll gain an advantage over the competition with 60-day interest-free credit, short payment terms to suppliers, secured transactions and enjoy potential early payment discounts from selected suppliers.
We also offer EzyProcure, a robust B-to-B F&B procurement platform that helps buyers and suppliers to effortlessly move through the order creation, goods receiving to invoice reconciliation processes with tracked labour savings of up to 70%. With the platform's multilingual and omnichannel nature, it's possible to auto-replenish stock levels, maintain strict budget controls and make decisions based on detailed procurement data. Best of all, it seamlessly links with EzyPayment to deliver even more automation and cashflow improvements, such that businesses can easily integrate the processes without the need for further integration.
With this uncertain time having greatly impacted the F&B industry, make sure your business is prepared for the digital-first future with SGeBIZ's effective procure-to-pay solutions. We can help your organisation simplify procurement issues, automate workflows and achieve an economically viable journey for payments.